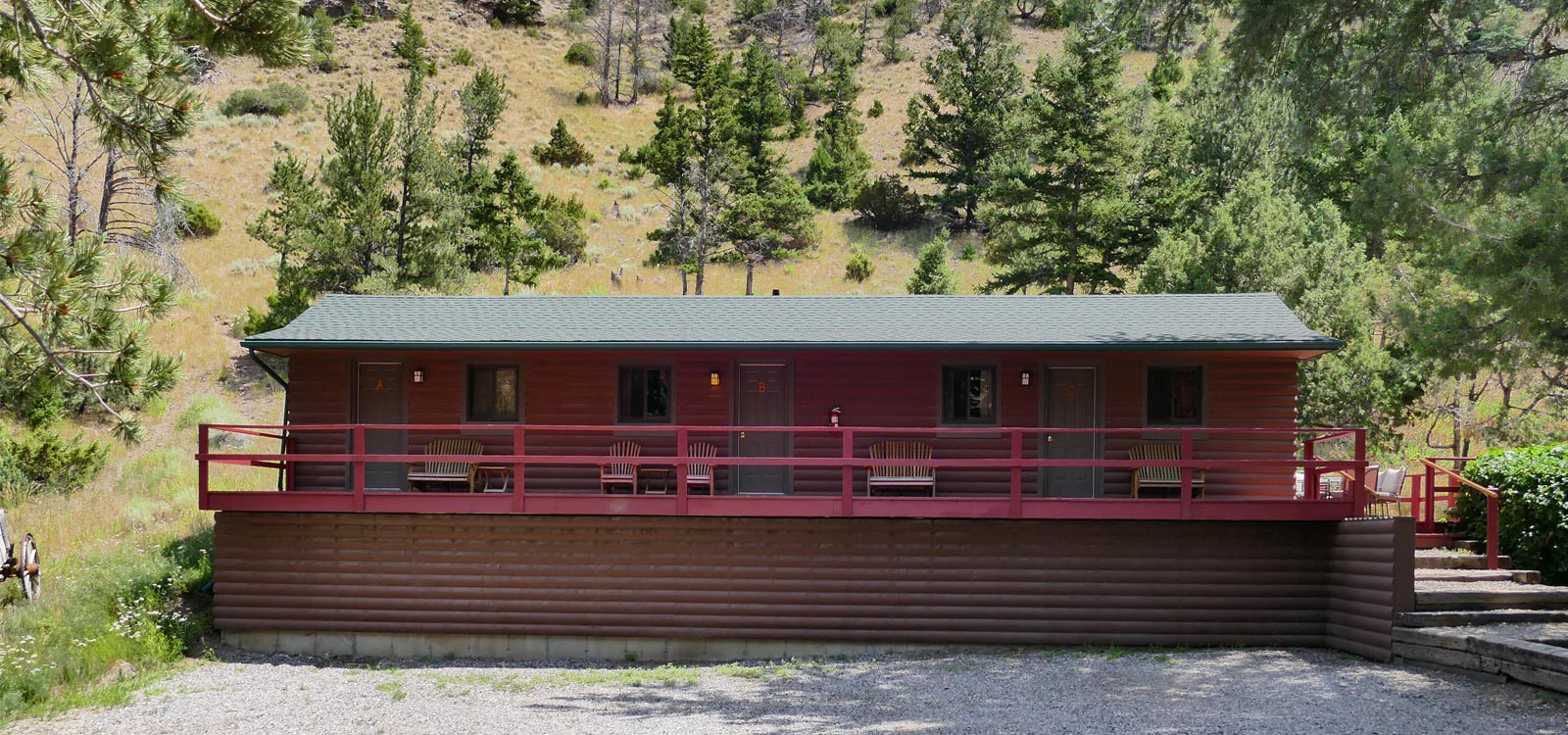 East Yellowstone Log Cabins
Western Log Cabins near the East Entrance of Yellowstone
Inside these rustic walls, you'll feel at home. Guests praise the quaint cleanliness, cozy roominess, and authenticity of our cabins with their handmade furniture coupled with modern private baths.
And their creekside location ringed by rugged terrain like Ptarmigan Mountain will stay with you in dreams for years to come.
With many cabin configurations geared toward couples to groups of 8, Will this be your home away from home near Yellowstone?
Sleeps: 2 Beds: 1 King,
Rooms: 1 Bedroom, 1 Bath
Rate: $185 - $210
Better be quick on the draw. Our two Buckaroo King Cabins book fast. These newly remodeled Western-themed gems make for one of the most romantic couple getaways between Cody and Yellowstone National Park. Rugged mountains surround your cabin for an escape to remember.
Sleeps: 4 Beds: 2 Queens
Rooms: 1 Bedroom, 1 Bath
Rate: $185 - $215
Our Buckaroo Queen Cabin has two queen beds and a full spacious bathroom. You'll love the Western theme in this newly remodeled and redecorated cabin. Shares a private deck to enjoy Yellowstone country with the Buckaroo King Cabin.
Sleeps: 5 Beds: 2 Queens, 1 Twin
Rooms: 1 Bedroom, 1 Bath
Rate: $180 - $215 for 2 guests, $10 per additional guest
Our duplex-style Bill Cody Cabins are packed with wood-paneled charm. Each Bill Cody Cabin greets guests with two comfy queen beds, one twin bed, and a full bathroom. Settle in, then slip out to the shared porch to drink in the clean mountain air with spectacular views through the forest.
Sleeps: 8 Beds: 3 Queens, 2 Twins
Rooms: 2 Bedrooms, 2 Baths, Living Room, Kitchen
Rate: $280 - $360
Got family? The Cowboy Chalet offers you a master bedroom and master bathroom to give yourself some space and has its own kitchen, living area, and balcony so you'll feel at home. The loft bedroom and bathroom provide a memorable space with 2 queens and 2 twins that kids love.
Sleeps: 4 Beds: 1 Queen, 2 Twins
Rooms: 2 Bedrooms, 1 Bath
Rate: $210 - $249
The Westerner is one of the most historic cabins on the ranch but has been brought up to date as a two-bedroom, one-bath getaway. The Western decor will make your family of four feel like part of our family. While you'll have plenty of room, the private porch lets you sit and listen to the creek that runs through the ranch.
Sleeps: 6 Rooms: 2 Bedrooms, 1.5 Baths
Beds: 2 Queen, 1 Double or 2 Queen, 2 Twin
Rate: $240 - $265
Listen to the picturesque Nameit Creek flow by your bedroom window without highway noise to distract you from nature! These duplex cabins share a large covered porch. Both Ponderosa Cabin 14 and 15 have a queen in the first room with a half bath, and then two queens and a full bath in the second.
Sleeps: 6-7 Beds: 2 Queen, 3 Twin
Rooms: 2 Bedrooms, 2 Baths
Rate: $255 - $289
Step out the front door of your standalone cabin to be greeted by the happy tumbling flow of Nameit Creek near your private covered porch. One bedroom gives you a queen and a twin with a small full bath. The other has a queen & two twins with a large full bath.
Sleeps: 4 Beds: 2 Queen Beds
Rooms: 1 Bedroom, 1 Bath
Rate: $185 - $215
Stay in a handicap-accessible first-floor cabin on the lower level of the Cowboy Chalet. The Little Bear cabin treats you to a beautiful rustic one bedroom, one bath cabin with two queen beds. You'll also enjoy a porch area where our guests can enjoy the Wyoming Summer weather. Located right next to the main lodge!
Sleeps: 6 Beds: 2 Queen, 2 Twins
Rooms: 2 rooms, 1.5 baths
Rate: $290 - $469
Enjoy a discreetly located cabin just off the main lodge to feel like part of the true Old West. This log cabin offers a main room with two queen beds and a full bath. In the second room, you'll have two twin beds and a half bath. This one is perfect for the family with little buckaroos!